Overview of the National Network of Fusion Centers
The National Fusion Center Association has created this video to provide an overview of the National Network of Fusion Centers and the benefits of information sharing between federal, state, local, tribal, territorial, and private sector partners.
Active Shooter
The Los Angeles County Sheriff's Department has created this video to help people answer the question "What would you do?" in the event of a sudden attack by an active shooter while at work, school, or in public.
WARNING: This video contains graphic content of a violent nature. Viewer discretion is advised.
Stop The Bleed.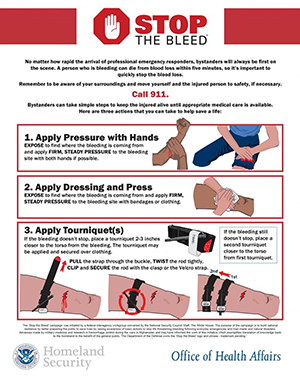 Launched in October of 2015 by the White House, Stop the Bleed is a national awareness campaign and a call to action. Stop the Bleed is intended to cultivate grassroots efforts that encourage bystanders to become trained, equipped, and empowered to help in a bleeding emergency before professional help arrives.
Visit the DHS page to learn more and be prepared if you are ever in a position to help someone who is bleeding»
Greater Kansas City Crime Stoppers Apps for Android and iPhone
Got a crime tip? Anonymously report your tip in three ways:
Call 816-474-8477
Fill out a form online
Submit crime tips through a phone app
Crime Stoppers benefits everyone in the metropolitan area, not just in the city of Kansas City. Crime Stoppers is not the Police Department, but is a Non-Profit Community Organization.
157,876 Anonymous TIPS taken, 659 Homicides solved and $1,547,880.00 in cash rewards approved as of 9/1/2020.
For general questions about Crime Stoppers contact tips@kc-crime.org (Do not use this email to submit a tip: it is not anonymous. To submit an anonymous tip, click the "Give a tip" button on the left).
---
KCRFC Critical Infrastructure and Key Resources (CIKR)
Protecting and ensuring the continuity of the critical infrastructure and key resources (CIKR) of the United States are essential to the nation's security, public health and safety, economic vitality, and way of life.
The CIKR section has been added to increase the baseline capabilities of the KCRFC as we continue to provide and enhance the Kansas City region with analytical and response tools in times of critical incidents. Full Story>
---
Funded by the Regional Homeland Security Coordinating Committee of the Mid-America Regional Council
600 Broadway, Suite 200 · Kansas City, MO · 64105
© . All rights reserved.