VISION STATEMENT
The vision of the Kansas City Regional Fusion Center (KCRFC) is to protect the privacy rights of all citizens while working in partnership with the public, private sector, local, state and federal agencies to collect, evaluate, analyze, and disseminate information and provide actionable intelligence in a timely, effective, and appropriately secure manner.
MISSION STATEMENT
The mission of the KCRFC is to bring federal, state, and local representatives together with public and private sector partners to increase safety and security within our area of responsibility by combating international and domestic terrorism, assisting in the protection of critical infrastructure and key resources, and mitigating threats of school violence, workplace violence, and incidents involving potential mass casualties as well as any other related criminal acts.
HERALDRY OF THE KANSAS CITY REGIONAL FUSION CENTER SEAL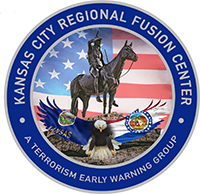 The United States flag and the flags of Missouri and Kansas on the wings of the eagle reflect the unity of our nation and our region in the common pursuit of the defense of our homeland against terrorism, both regionally and nationally.
The Scout is a regional symbol of vigilance that depicts a Sioux Indian on horseback surveying the landscape of Kansas City, Missouri.
The eagle, the symbol of our nation soaring over our skies, reflects the strength of our mission and our commitment to long-term awareness and preparedness.
---
Funded by the Regional Homeland Security Coordinating Committee of the Mid-America Regional Council
600 Broadway, Suite 200 · Kansas City, MO · 64105
© . All rights reserved.